Currently Listed
Sort by
Newest
Lowest price
Highest price
Earliest auction
Earliest inspection
I would like to take this opportunity to recommend Nicholas Hoo and the team at Marshall White.

We met Nick when we were first considered a move interstate and wanted to know that if we did indeed move away from Middle Park, our home would be the hands of a trustworthy agent.

In January 2017, we made the decision to move interstate and left the house with a key in the letterbox for Nick to collect. Nick and his team project managed the entire process which began with an initial preparation period of arranging painters, gardeners, handymen, cleaners and a stylist. Following this, professional photographers, copywriters, and floor plan artist were all scheduled well in advance so that we had plenty of time to look over the selections and give the final ok before the marketing went to print.

Nick and his team ran the campaign very systematically. We received regular communication throughout the campaign through phone calls, emails, and written reports along with 3 pre-arranged phone conferences to give us a more detailed analysis of how the campaign was progressing. This really put our mind at ease and we were confident that everything was being looked after to the highest standard.

The information and knowledge of the buyers proved to be invaluable and Nick knew the buyers and their capabilities through out. We received a final auction summary prior to the big day with the buyers broken into 3 categories: Most likely contenders/Possible Contenders/Unlikely contenders. The auction commenced on an opening bid $2,600,000 and after a competitive auction from 3 bidders, it eventually sold to one of the identified bidders above our expectations for $2,956,000.
96 Hambleton Street, Middle Park - J. Leeder
I'd like to offer a huge acknowledgement of thanks and appreciation to Nicholas Hoo and Oliver Bruce for their commitment and excellent result in selling our property at 164 Cecil Street in South Melbourne.
The well thought out and knowledgeable approach to buying and selling that Nicholas demonstrated is what really appealed to me. Nicholas continually proved throughout the whole campaign that he was in tune with the market. I also appreciated the regular contact, meaningful updates, and excellent advice. His advice extends beyond selling our property and has been very helpful for future planned endeavours also.
I highly recommend the team at Marshall White in Albert Park. They were excellent from the beginning. From their market knowledge and processes, approach to maintaining accurate data and subsequent analysis, the management throughout campaign, right through to the energetic and entertaining auctioneering of Oliver Bruce. Highly regarded and highly recommended.

164 Cecil Street, South Melbourne - J. Pentland
We engaged Nick Hoo and the team at Marshall White to sell our house in Spring

We had a difficult auction campaign resulting in no bids on the day. We remained on market for a further 6 weeks after auction day before selling for an acceptable price. Through this time, Nick stuck at the task excellently and was well supported by Oliver Bruce when we had the big decisions to make.

Marshall White is a professional firm with good support systems and processes. We are not experienced vendors and overall find the whole rigmarole of open for inspections etc inconvenient and annoying. However, the team managed this efficiently and consistently, which gave us continuing confidence that we would get a result.

Despite it taking a relatively long time to sell, we always felt that our best interests were being taken care of and that the advice we were getting was sensible and realistic.

Based on our experiences, we would recommend Nick Hoo and Marshall White to anyone looking to sell their home.


11 Howe Crescent, South Melbourne - E. Wood
I would like to thank you for your valuable input, service and dedication regarding the sale of my property in Little Page St Albert Park. Your assistance in liaising with the tenants during this period was of great benefit in respect to minimal disruption of the tenants. Your support to the tenants post sale in helping them to find alternative accommodation was greatly appreciated.
71 Lt Page Street, Albert Park - R & S Lo Presti
I wish to convey my most sincere appreciation and thanks to both of you for your tireless efforts and assistance in helping me, to not only sell my current property, but also to purchase my next home.

During our interactions over the past few months, I feel I have acquired two very good friends, rather than just the professional services of two real estate agents. As I have often mentioned to you, to just say thank you seems so inadequate to convey my gratitude.

Many a time have I called you when I was overcome by stress, worry and uncertainty about my decision to sell and post-purchase of my next property, (prior to selling my current property), which compounded my worries! You both have always made time for me amidst your busy schedules to listen to my concerns and being forthright with your counsel, which I had come to rely on.

I have often been amazed by your energy levels and flexibility in turning up for every inspection with the same good cheer and optimism, irrespective of whether it was the second or third inspection for the day. You have always been timely, extremely well organised and arranged everything for me without my having to ask you a second time. The absolute professionalism of the campaign throughout and feedback after every inspection is almost unique as far as my experience with real estate agents goes.

Thank you yet again for making this major move of my life quite smooth and relatively painless.
I would recommend you without the least hesitation to any other prospective sellers in this building or elsewhere in future. I hope we will keep in touch.

350 St Kilda Road, Melbourne
I had the pleasure of dealing with Marshall White in selling a property in South Melbourne. The Marshall White team, particularly Nicholas Hoo and Oliver Bruce, were fantastic to deal with. Nick and Oliver were professional, reliable and provided an outcome that went beyond our expectations. We would like to commend Nick on his professional manner from the first meeting to the finalisation of the sale of the property. Nothing was ever too much trouble for Nick, he always greeted my family, myself and prospective purchasers in a professional manner. His communication and follow up from open house inspections was prompt and informative. I highly recommend the Marshall White team.

188 Albert Road, South Melbourne - S.Lewis
We are writing to acknowledge the hard work and support of yourselves and the Marshall White Albert Park Team in relation to the recent sale of our home in South Melbourne.

From the first contact we had with you, Marshall White lived up to our first impressions that you would provide a professional service. Communications were excellent and you always delivered within the timeframes you set. This was particularly impressive as once we had decided we wanted an early Spring Auction it did not give you much time to put everything in place that was required to start the campaign but not once did you say it was not achievable.

Everyone involved, including photographers, copywriter and video team were on time, courteous and very professional, for instance we thought the photography was excellent quality.

Despite having lived in Australia now for some 24 years surprisingly we had never personally participated in an Auction process and were grateful for your expert advice and guidance during the weeks leading up to, and on the day of the Auction itself.
We have no hesitation in recommending your team at Marshall White - Albert Park to friends and neighbours. All best wishes for the future.

410 Coventry Street, South Melbourne - L Chambers & P Reid
Following an initial meeting with Nick, we agreed to sell our apartment off-market with a price we considered some way above market and we refused to accept any offer lower!

Nick took this as a challenge and immediately organized inspections for potential buyers in his contact list. While the price was higher than the buyer would have expected from the history of sales in the area, Nick was able to sell the unique qualities of the property to the buyer and convince him of the one off opportunity that was being offered.

The deal was done. We appreciated Nick approach and professionalism in making this deal happen. We were surprised and delighted they were able to close a deal at above market pricing in such a short time.

430 St Kilda Road, Melbourne - P & M. Healy
We have recently sold another property with the expert assistance of Nicholas Hoo. Our preference is to sell off market with as little fuss as possible and to do this successfully you need to work with people of exceptional integrity.

They need to know the market, be efficient and totally trustworthy. Needless to say Nick and the entire team at Marshall White meet this criteria. We'll be back!
157 Napier Street, South Melbourne - C & H. Hahn
We recently appointed Nicholas Hoo and the Marshall White team to sell our home in Reed Street, Albert Park. We had perfect foresight! Our decision was rewarded with impeccable professional advice, service and best of all, Nicks invested local knowledge and strategy and an agency with an extensive network of agents and qualified potential clients. We required a trusted and experienced agent, auctioneer and brand, and an outstanding result. We remain delighted with the whole experience and would have no hesitation engaging Nick and Evelyne again.
39 Reed Street, Albert Park - A & G Wyatt
I have no hesitation in recommending Nicholas Hoo and Sarah Wood who together with their capable administrative staff, Georgia and Brooke, provided a professional and ethical service that resulted in a successful sale. I appreciated their support throughout this quite stressful process. Nick and Sarah make a great team and the combination of a male/female sale team should not be underestimated.

40 Smith Street, South Melbourne - Joan
Nicholas Hoo was initially referred to us by a friend when we embarked upon our search for a house in Albert Park. Nick was diligent in his follow up and after an 18 month period of showing us suitable homes, we finally purchased through Marshall White in 2014. In March 2018, after moving into our newly renovated home, we decided to sell our first home and appointed Nick & Evelyne to auction our property.
Nick provided a very clear strategy from the beginning and was up front with price feedback and what we should expect out of the campaign. We were provided with regular communication and campaign reports making us feel very comfortable throughout the entire process. Before the auction, we were given a comprehensive breakdown on the likely outcome including who were the main contenders and their capacities.
Nick conducted a brilliant auction and together with 7 other team members in attendance we are extremely pleased with the result and would have no hesitation in recommending Nick & Evelyne to anyone thinking of selling.


239 Princes Street, Port Melbourne - M & A Von Der Muhll
We elected to market our property in South Melbourne with Marshall White, specifically Nicholas Hoo and Oliver Bruce. We ended up with an 'off market' sale plan that proved to be exactly what suited us.
I had built a relationship with Nick over the previous 12-28 months, where he had kept in touch from time to time on market trends in the area. During this time I had found Nick to be friendly, polite, respectful and generous of his time. When it came to selecting our agent to represent us, it was a very easy decision. Oliver and Nick work as a great team, complimenting each other in many areas of the marketing campaign.
The marketing process was excellent, where we were kept informed on every home visit, with the provision of written buyer's registry as well as frequent verbal updates. Nick managed these house visits with the utmost respect for our house, presentation and security. We were often away, however I had no hesitation in leaving the house in the care of Nick. He kept us closely informed on potential offers and managed the offer process professionally, efficiently and with integrity. The end result was a marketing campaign that lasted no more than one month, with a stress free result that was a win win for both us and the buyer.
We would have no hesitation in working with Nick and Oliver of Marshall White again.

366 Albert Road, South Melbourne - J & J Wynwood
We sold our South Melbourne property with Nicholas Hoo and Evelyne Ioannou. As owners of a real-estate agency in Adelaide, we were immediately impressed by Nick's straight talking no-nonsense approach to real estate. After interviewing 3 local agents, we decided to appoint Marshall White based on Nick's track record in South Melbourne and knowledge of the local market. We also felt it was a significant advantage to have a male/female team looking after our property.
We left the property in Nick's hands and returned to Adelaide trusting his ability to put in place the best strategy to achieve the highest price possible. We were kept up-to-date with regular feedback and always felt part of the entire process.
Nick conducted the auction with 5 bidders in attendance and achieved a sale price $105,000 above our initial expectations.
We have no hesitation in recommending Nick, Evelyne, and his administration support to anyone looking to sell their home.

103 Bank Street, South Melbourne - B Manuel & G Toop
Our experience selling with Nick was surprisingly enjoyable, given there was NO spin, NO hard sell.

It felt like a respectful, collaborative, team exercise, Nick has an encyclopaedic knowledge of the area, once we were well informed, Nick respected the decisions we came to.

Ultimately, we sold in 10 days, at the price Nick said was achievable in the current market, his negotiation skills with our buyers were equally impressive.

Nick is a fine example, of a transparent, contemporary, professional agent, a welcome change from past experiences.

His associates and admin team also a 10 out of 10!

It was a pleasure at every level!
Kerin and Gary Haddon and family
It was a pleasure working with Nick and the team at Marshall White. Nick's professionalism was second to none and he did an amazing job selling our home in a rapidly changing and challenging market due to COVID-19. He was proactive and worked incredibly hard to provide appropriate and timely advice, whilst listening to our individual needs, and delivered an excellent result beyond our expectations. We would highly recommend Nick and his team to anyone wanting to sell their property
Vendors of 59 Heath Street
Nicholas is a Real Estate professional of the highest calibre. His work ethic, integrity and his ability to build quality relationships with buyers and sellers sets him apart from his competition. I'm very happy to recommend him.
Marcus, seller of 185 Danks Street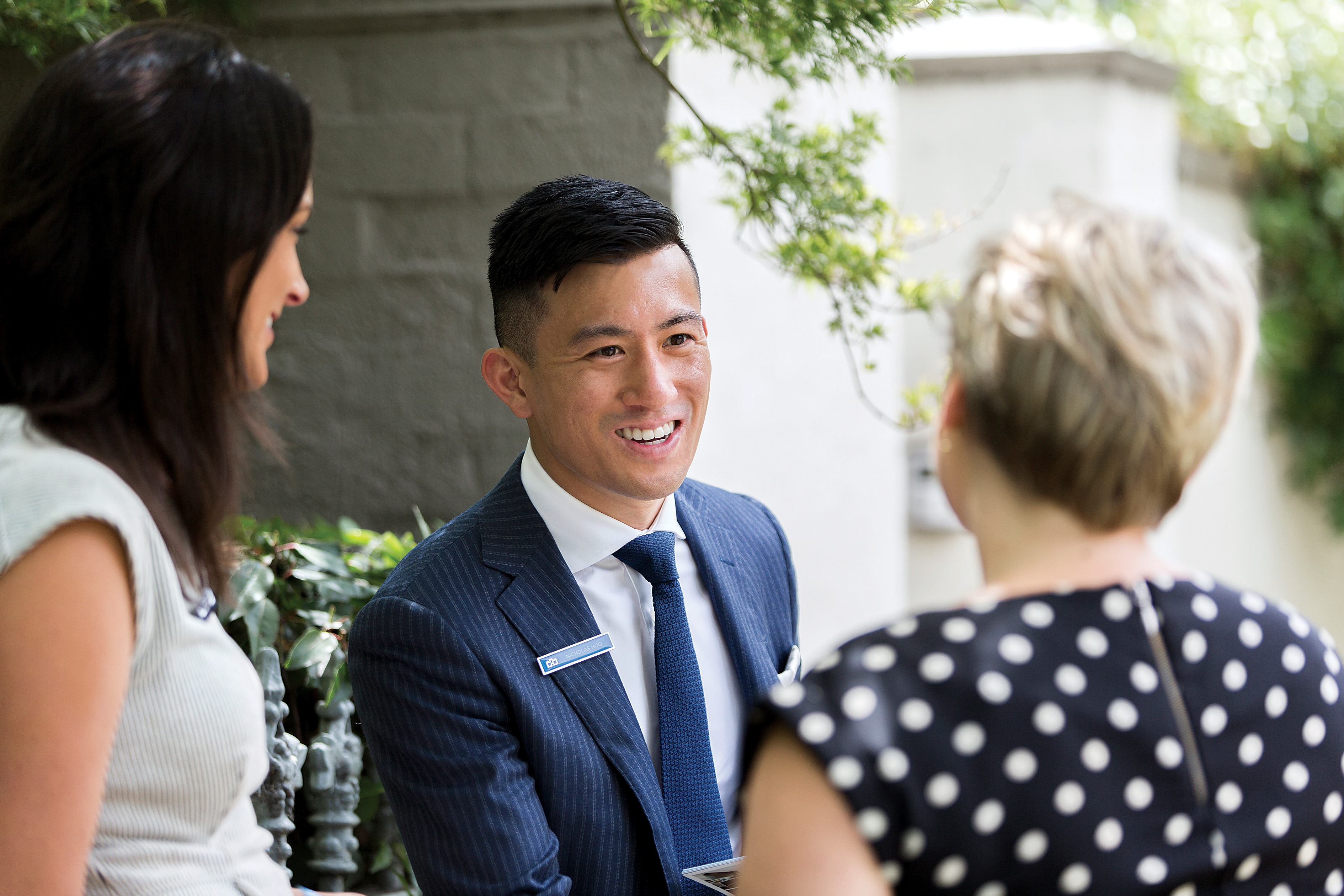 Nicholas is a new breed of real estate agent; a straight talking and direct person who focuses on delivering exceptional customer service. An extremist in all facets of his life; once he sets his mind on achieving a goal, he will stop at nothing to deliver.
His experience, combined with market knowledge and dedication to achieving outstanding results, gives his clients incredible leverage.
A Director and Auctioneer at the Marshall White Port Phillip office, Nicholas has been one of the company's leading performers since joining in 2012. In that period of time, he has been involved in over $1 billion dollars' worth of property transactions. This experience, combined with his market knowledge and dedication to achieving outstanding results, gives his clients incredible leverage.

Specialising in selling houses and luxury apartments in the city of Port Phillip and Melbourne, Nicholas has facilitated a number of landmark sales including 41-42 Howe Crescent in South Melbourne for $12.5m, which established a Port Phillip record, and The Skyhouse at 478 St Kilda Road for a price just under $10m.

Nicholas is a new breed of real estate agent; a straight talking and direct person who focuses on delivering exceptional customer service. Extremely focused and driven to succeed, once he sets his mind on achieving a goal, he will stop at nothing to deliver. A local to Albert Park, away from the office, Nicholas spends time with his wife Nicole, keeping fit at the gym and walking his Shetland sheepdog named Truffle.
Nicholas Hoo's Properties
Get an appraisal with
Nicholas Hoo
Recognition
Recognising exceptional achievements both internally and within the wider Real Estate industry, Marshall White celebrates our top performers who, year after year, continue to build a reputation of excellence.
2021-09-02
Marshall White
Made Director at Marshall White
2020-01-23
Marshall White
Made Partner at Marshall White
2019-09-01
Marshall White
Highest Sale Price - Port Phillip
2019-09-01
Marshall White
5 Years at Marshall White
2017-09-03
Marshall White
Outstanding Sales Growth Award (2017, 2018)
Show more
Wear For Success
Nicholas is an avid supporter of Wear For Success, a not-for-profit organisation providing professional clothing and work skills training to provide people with the best possible chance of achieving their career goals. They have helped over 5,500 people needing support on their journey back to work.