Currently Listed
Sort by
Newest
Lowest price
Highest price
Earliest auction
Earliest inspection
We enlisted Marshall White for the recent sale of our Malvern property as Andrew Hayne came highly recommended via friends. He and Jack were immediately friendly, professional and straight down the line which was very important to us. From the outset, we were very pleased with the information, delivery and recommendations we received from both Andrew and Jack, and they always displayed a clear professionalism and desire to achieve a great result throughout. Communication was always clear and forthright, and meeting times flexible to suit us. On auction day they listened to our wishes and Andrew delivered a great result under the hammer. I can't imagine you can go wrong with these two and can only sing Marshall White's praises throughout the entire process. Thank you.
Marshall White recently very successfully auctioned our family home of some 27 years. Marshall White's marketing & sale program was led by Andrew Hayne & Fiona Ansell-Jones. Throughout the period of the pre-auction "opens for inspection" Fiona kept us well informed on the interest being shown in the property & how the campaign was progressing. Andrew also kept in touch with us through this time. He then did a superb job as auctioneer, running the auction very professionally & achieving for us an excellent sale price. We would recommend both Andrew & Fiona to anyone selling a property in Melbourne.
In making our decision to choose an agent to sell our home we decided on MW as we felt you had an edge on the market in our area, we are thrilled with the result accomplished and felt very comfortable during the whole process. Andrew you conducted a great auction in front of a big crowd, something we had seen you do before many times and you did an incredible job. Fiona and Jack you were always encouraging and available for any questions we had, which resulted in a very stress free campaign (if that is possible). Thank you all very much for your efforts we are very excited about the next project to come!
Judith and I would like to think David Volpato and Andrew Hayne and their team for the excellent job they did on the sale of our home at 10 Norman Avenue South Yarra. There considered advice and persistence of effort were greatly valued by us and to bring a successful conclusion to the sale process after some considerable difficulty was an outstanding achievement. We cannot speak to highly of their professional friendly yet firm advice. Well done and thank you again.
In a little over three years now you've managed the sale of 4 properties on our behalf, in Malvern and Armadale. And what an incredible track record you've set, delivering truly brilliant results each time. With combined sales just shy of $14 million, you've set a new benchmark for each of these properties in their respective area. And, most importantly, you've exceeded our price expectations and smashed our reserves every single time!
Thank you for all your work in getting us an above expectations result. I sincerely hope you achieve the same with your own house.
Thank you for the service that was generously given on our recent sale of 65 Caroline Street, South Yarra. You acted professionally and efficiently in a most friendly manner and achieved the sale at a very good price. We decided to sell very quickly with an overseas trip pending and whilst we were away you pulled together all the people to bring the house to a very nice standard, painters, gardens, and made it very easy for us. Thank you Andrew, this was just the backup we needed. We hope one day the new owners put the plan we have had approved by council into place and we will be happy to see that happen as well.
Pamela and Simon Jefferson
Andrew, Madeline and the Marshall White team have achieved 3 outstanding results for us in the past 3 years, each setting a new price benchmark in its respective area. I could not recommend this team more highly and trust them implicitly to manage all aspects of a sale campaign. Their intimate knowledge and experience in the Malvern and Armadale market is unparalleled, as demonstrated by the exceptional, market leading results they achieve.
On very limited occasions I come across people who exceed my expectations. In assisting us sell Monaro Road, you and your team have just done that and more. It's one thing being a true professional in your role, managing the campaign process with a calming reassurance, taking on board our requests and comments and achieving our expected result without too much pressure. It's a completely different matter taking the time to get to know and understand your client's needs, showing empathy, providing invaluable advice, recommendations and solutions. It was an understatement when you said that you had great people that could assist us in preparing our home for sale. They were outstanding.
I cannot express enough on how professional, understanding, informative and service oriented you were before, during and since the outstanding result that you achieved for me. Both John and Andrew kept me informed from day one and I was 100% satisfied with every facet of the sale. I have no hesitation in recommending John and Andrew to friends because I am sure they would exceed all expectations as they did for me.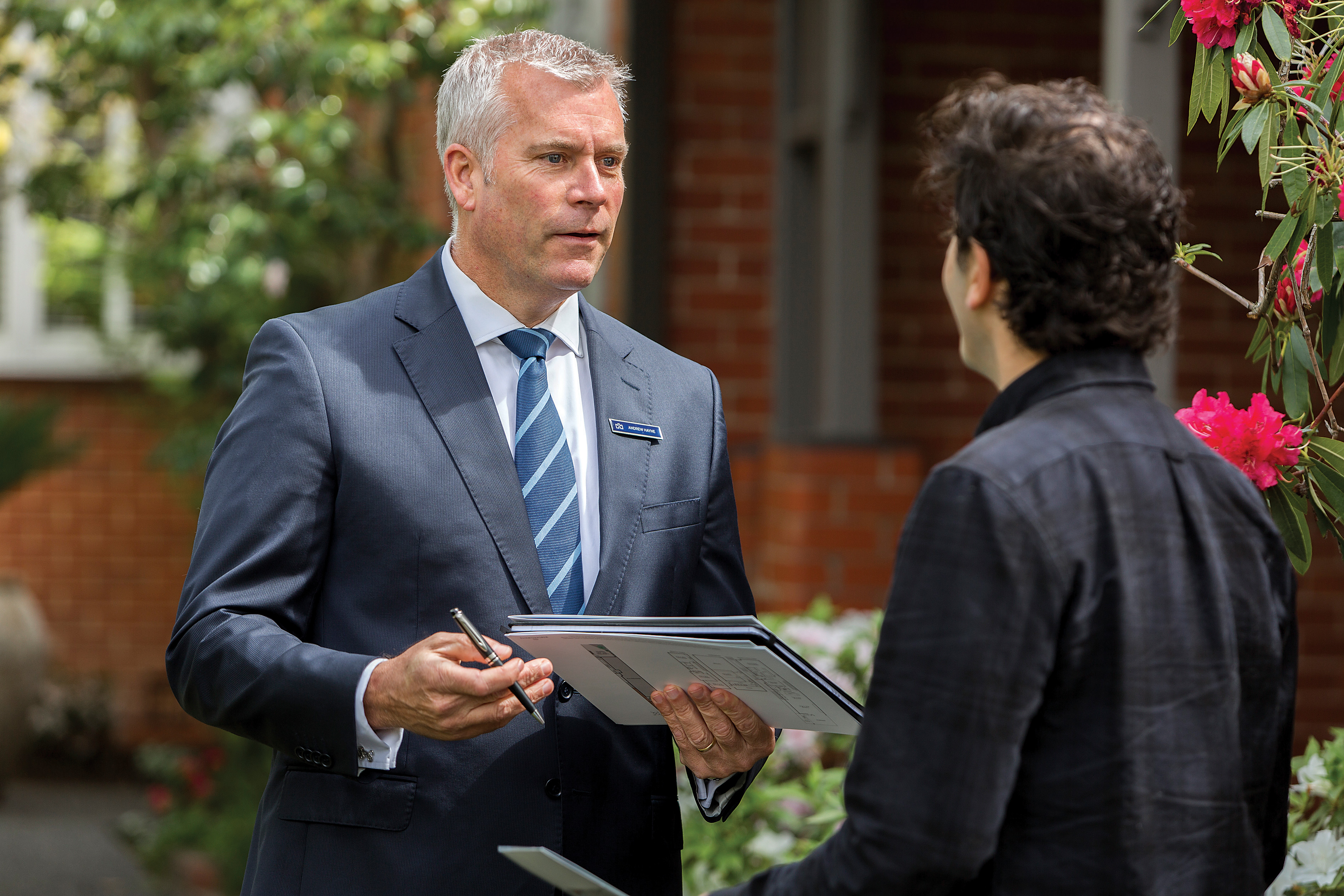 With a reputation based as much on his relaxed, friendly and warm demeanour as it is on his astute business sense, market knowledge and formidable negotiating skills he attracts an enviable level of repeat and referral business. Considered one of the most accurate valuers in the area, Andrew consistently achieves outstanding results for his clients in every real estate climate
One of the most trusted and respected real estate professionals in Stonnington, Andrew has an exceptional track record selling over $1.7 billion worth of property in a career spanning in excess of 30 years. As a long-standing director of Marshall White, he is one the most sought-after auctioneers and has successfully conducted more than 2000 auctions.
One of the most trusted and respected real estate professionals in Stonnington, Andrew has an exceptional track record selling over $1.7 billion worth of property in a career spanning in excess of 30 years.
Get an appraisal with
Andrew Hayne
Recognition
Recognising exceptional achievements both internally and within the wider Real Estate industry, Marshall White celebrates our top performers who, year after year, continue to build a reputation of excellence.
2019-09-24
Marshall White
Highest Sale Price - Bayside
Show more
Chain Reaction
As a proud board member of the Chain Reaction Foundation, Andrew has personally raised in execss of $200,000 for kid's charities supported by Chain Reaction. Many friends and colleagues have also been impressed by Andrew's phenomenal stamina in completing 6 Chain Reaction endurance bike rides from 2011 – 2016, a ride that covers 1000 kms over 7 days.